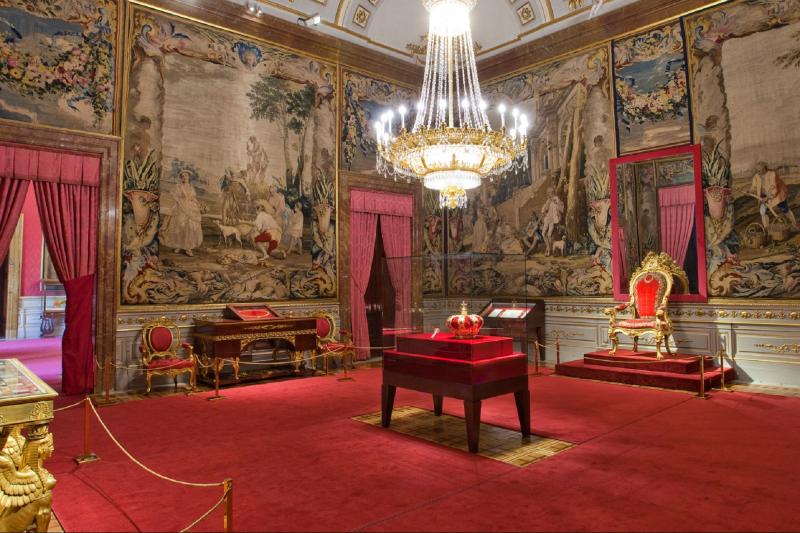 A Royal Tour: The Royal Palaces in Madrid
Tämä on uutuustuote, jonka on nyt varattavissa. Lisätiedot saatavilla suomeksi pian!
Skip the line to the Royal Palace in Madrid! You get a guided tour through the palace, where you admire the stunning royal rooms, apartments and the Spanish crown and throne. You also travel to the Royal Palace in Arajnuez, where you skip the lines outside and see the many decorative rooms and the Museum of Royal Feluccas.
Peruutettavat liput Peruutettavat liput
Liput peruttavissa 48 tuntia ennen esitysajankohtaa. Lipun hinnasta saatetaan periä 20 % peruutusmaksu.
Kesto: 5 tunti 30 minuuttia
Mitä sisältyy hintaan?
- Skip the line-access to the Royal Palace.
- Skip the line-access to the Royal Palace of Aranjuez.
- Guided tour of the Royal Palaces.
- Bilingual guide: English or Spanish.
- Transportation in a bus with aircondition.
- Radio guide system.
Saapumisohjeet
Royal Palaces Tour
Osoite
Calle de San Nicolás, 15 28013 Madrid
Tuki

09 4272 0899
Tarvitsetko apua? Me autamme sinua mielellämme!